15 May 2020
The Golden Rules for Writing a Great Short Story… with Byron Writers' Festival… and me!
13, 20 & 27 June 10.30am – 12pm
Every story starts with a moment of inspiration — and a great opening sentence.
And the best short stories by masters like Anton Chekhov, Alice Munro, John Cheever, Lucia Berlin, Kelly Link or Raymond Carver can offer even more than life itself in their vivid and evocative writing and flawed, achingly human characters.
W. Somerset Maugham — also a pretty nifty short story writer — once quipped that "there are three rules for writing a novel. Unfortunately, nobody seems to know what they are."
But what if there were rules for writing the kind of short story you love reading, and others might too?
In a series of entertaining, engaging and enlightening workshops, I'll reveal my Golden Rules for Writing a Great Short Story, which I gleaned from interviews and chats with some of the world's best writers and which I tested by writing six short stories in six weeks — all of which were published in some of Australia's most prestigious literary journals and anthologies.
You'll not only learn these practical and applicable rules to write better short stories, but read some great examples of brilliant short story writing, go through a rigorous editing and workshopping process and get some insider tips on how to get your work published.
Click on the link below to find out more!
The Golden Rules for Writing a Great Short Story with Sunil Badami
12 December 2017
Books on National Summer Weekend Evenings with Tatjana Clancy
I'll be chatting with the cool, lovely and talented Tatjana Clancy every Friday evening at 9pm about the best, biggest, weirdest and occasionally most controversial books this year and into 2018. Tune in on your local ABC Radio station, on the wireless, in the car, online or on Tune In radio. See you soon!
http://www.abc.net.au/radio/sydney/programs/
Wednesday 16 August 2017
I'll be appearing at this important symposium at Parramatta's 1PSQ on Wednesday 16 August. Click on the title above for more details of speakers, events and registration. It's free!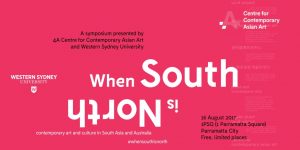 Find out more and register here.
With local and international speakers drawn from all over South Asia, this symposium is led by artists, cultural commentators, scholars and grass-roots workers who understand the real issues which affect art and culture from the region.  With keynote presentations from artists Adeela Suleman (Pakistan) and Reena Kallat (India) and curator and Director Vidya Shivadas (India)– plus a wide range of Australian-based artists, academics, politicians, community workers and more – When South is North aims to build dialogue around South Asia and Australia in a contemporary arts context.
The focus of the day will be on question-making, debate and discussion – focusing on the hows and whys within the region's contemporary art and cultural landscapes.