12 December 2017
Books on National Summer Weekend Evenings with Tatjana Clancy
I'll be chatting with the cool, lovely and talented Tatjana Clancy every Friday evening at 9pm about the best, biggest, weirdest and occasionally most controversial books this year and into 2018. Tune in on your local ABC Radio station, on the wireless, in the car, online or on Tune In radio. See you soon!
http://www.abc.net.au/radio/sydney/programs/
Wednesday 16 August 2017
I'll be appearing at this important symposium at Parramatta's 1PSQ on Wednesday 16 August. Click on the title above for more details of speakers, events and registration. It's free!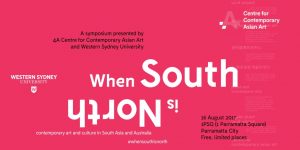 Find out more and register here.
With local and international speakers drawn from all over South Asia, this symposium is led by artists, cultural commentators, scholars and grass-roots workers who understand the real issues which affect art and culture from the region.  With keynote presentations from artists Adeela Suleman (Pakistan) and Reena Kallat (India) and curator and Director Vidya Shivadas (India)– plus a wide range of Australian-based artists, academics, politicians, community workers and more – When South is North aims to build dialogue around South Asia and Australia in a contemporary arts context.
The focus of the day will be on question-making, debate and discussion – focusing on the hows and whys within the region's contemporary art and cultural landscapes.