Gregarious, passionate, eloquent… all three syllable words!
But if you are looking for someone who can work the room and connect with every single person in the audience to host your next event, chair your next literary or arts panel, launch your next book, raise funds for your charitable organisation or to deliver an inspiring, funny, and entertaining speech after dinner, get in touch with my agent, Jane Novak to arrange dates and rates by clicking on her name or going to Get in Touch.
With my extensive journalism, radio and television experience, and having chaired or hosted panels at the Sydney, Melbourne and Jaipur Literary Festivals, the NSW and Australian Poetry Slams and Vivid Festival of Ideas, there's no audience too big and no event too small. I love meeting people and sharing their stories, and I'd love to share yours too. I've launched books for acclaimed artist Bronwyn Bancroft, journalist John Zubzrycki, novelist Nick Earls, and more.
Here are some of my most recent hosting events, with testimonials…
The Golden Maze with Richard Fidler – LIVE
He's one of Australia's best loved conversationalists, and one of the world's most beautiful and storied cities is one of his biggest passions. Following on from the successes of his bestselling books Ghost Empire and Sagaland, Richard Fidler takes us on a tour of the Golden Maze that is Prague in a book that's been 30 years in the imagining and writing.
We wandered the stories streets of Prague with Richard, along with robots, golems, witch-queens, giant cockroaches, absurdist playwrights, secret police, Nobel laureates — and me — in a fascinating chat about city's peculiar, particular, singular history and if you buy a copy via Roaring Stories' webpage, you'll get a signed copy with free postage!

And if you missed it, catch our chat here!
2017 Australian Society of Authors Colin Simpson Memorial Lecture
St Barney's Church, Broadway, 12 November 2017
I spoke on the topic of Why aren't we listening? Who should we be listening to? Previous speakers have included Stan Grant, Frank Moorhouse, Shaun Tan, Melissa Lukashenko, Jackie French, Judith Rodriguez, David Marr, Chris Masters, Hilary McPhee, Kate Grenville, Tom Keneally, Dorothy Porter and Markus Zusak.
The transcript of my lecture was published on the Australian Society of Authors website and in Australian Books and Publishing, and broadcast on ABC Radio National's Big Ideas program.
Sunil Badami presented our 2017 Colin Simpson Lecture recently on the theme: Why Aren't We Listening and Who Aren't We Listening to? and we are very grateful to him for tackling such a complex issue so warmly and personally.The ASA is strongly committed to recognising, embracing and celebrating diversity and Sunil's insightful, intelligent and empathetic presentation was an inspiration to everyone in the room.  We owe him a real debt of thanks. – Juliet Rogers, CEO, Australian Society of Authors
Ivy Ballroom, Sydney NSW, 15 September 2017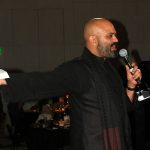 I hosted the inaugural fundraising gala for Settlement Services International, one of Australia's largest community-based, not-for-profit humanitarian organisation providing a range of services, including refugee and migrant settlement in NSW, providing services to over 14,000 refugees, humanitarian entrants and asylum seekers.
We raised over double projected funds aimed for, a fantastic result!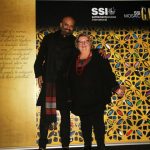 Thank YOU for being our MC extraordinaire! You were instrumental in holding everything together as we handed the night into your trusted hands, and you did so seamlessly with utter class, charm, humour and emotion. You kept the energy levels and friendly corporate competition up the whole night, and we couldn't imagine anyone better to do this for us. You and Magda were a perfect combination. We have had so much amazing, positive feedback!
Thanks to your amazing prowess in motivating people to give – guests dug deep and gave over double the projected funds from raffle tickets, donations and the silent auction!  Considering this is our first attempt at doing this, and that around half the room were guests of others and knew little to nothing at all about SSI, this is such a wonderful and heart-warming response from people wanting to help refugees here.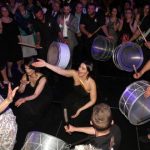 It was such a pleasure working with you, and we truly appreciate all of your support, advice, encouragement and enthusiasm. I know we at SSI definitely look forward to working with you again.
Thank you so much again! — Naushin Rahman, SSI Partnerships and Fundraising Manager
Vivid Ideas & Carnival of the Bold, 107 Projects Redfern, 3 June 2017
I hosted this panel discussion with selected academics, arts workers and directors of NGOs to discuss the themes covered by the Cause & Effect exhibition, what perspectives and insights the artworks bring to the conversation, and how artists can play a more active role as agents for social change. Here's what I had to say about it all…
Federation Square Melbourne, 11-12 February 2017
In addition to chairing a panel on travel writing with JLF founder, Namita Gokhale and authors Mishi Saran and Catherine Anderson
I hosted the opening gala, where I gave this speech about where I'm "really" from, which ended up going viral, with over 14, 000 views. Check it out here, or on the MWF Facebook page.